At Fairway Manufacturing Company, we offer you a one-stop online solution for finding the right souvenirs and gifts for you and your loved ones that give them a piece of their domestic or foreign adventures.  It can server as an inspiration for the ones that they hope to have themselves one day.  Our internet store is unrivaled by any other when it comes to having a vast collection of souvenirs and gifts.  We carry a huge selection of refrigerator magnets that are of high quality and diverse in nature as well. We select our collection of fridge magnets with your bottom line in mind.   Whether you are looking for a stunning custom 5 color 3D magnet or a photo image of your attraction or state, we make sure you get the best price so you can pass it on to your customers.
Fridge magnets make a delightful addition to any souvenir enthusiast's collection – and for a very good reason. Their size makes them easy to carry around on their travels.  Magnets are a vibrantly colorful portrayal of memorable landmarks and places that make them a great way to mark the journeys they've made to different parts of the world.  Apart from the more popular tourist attractions, at Fairway Manufacturing, you can pick from a large range of fridge magnets. You can find magnets from every state in the USA in a variety of designs.  We also carry magnetic maps for the collectors who want to purchase a magnet from each state they visit.
Your Own Personal Fridge Magnet Collection
Apart from making great decorative gifts or tourist souvenirs, fridge magnets are also fun and hassle-free objects to collect.  In fact, many people become avid collectors of fridge magnets because of their aesthetic appeal. They give everyone a chance to bring some excitement into their home by picking a magnet that depicts a scenic landscape or impressive skyscraper, that might actually be located halfway around the world from them. Fridge magnets are always there on your fridge to remind you all day long that it is never too late to plan that trip you have always wanted to take, giving you an opportunity to dream and look forward to such adventures.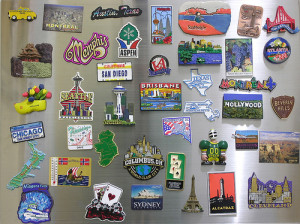 You can also make practical use of your fridge magnet collection at the same time as livening up a plain and boring surface with them. Just because they are collectibles, does not mean that they are useless! Fridge magnets are used in many households to keep track of important items like bills, reminders, shopping lists and invitations; things we often leave places where they can get lost. They are also a wonderful way to put up the artwork that your children make especially for you or an exemplary report card that makes you proud of them. By sorting out papers that will otherwise just be lying around and using a magnet to hold them in place, you will conveniently remove clutter from your kitchen or dining space as well.
A Short History of the Fridge Magnet
The earliest fridge magnets were created entirely as items of utility, usually in the form of plain circular or square shapes. People made use of these by putting them behind notepads to jot down lists or on hooks for hanging things that were used regularly. Around the 1960s, fridge magnets came to serve educational purposes in the form of plastic numbers or letters attached to a flat square magnet. They were frequently used in both schools and homes to teach young children. The 1990's saw magnets being attached to complete individual words that could be used to create 'magnetic poetry', an activity where they were creatively rearranged to make slogans or other kinds of written statements.
William Zimmerman of St. Louis obtained the first patent for fridge magnets in the 1970's. He patented the idea of them being used in the form of colored cartoon magnets to add a decorative flair to their convenience. From there on, fridge magnets have become an irresistible collector's item.  You can read more about it on Wikipedia.
Collectors of Fridge Magnets
Fridge magnets are so wildly popular nowadays that they are not only collected by a wide number of people but also have entire communities and forums dedicated to them. These are online discussion hubs where fridge magnet hobbyists come together to share photographs of their collections, look for magnets that are unusual or hard to find to add to their collection and give lots of tips for where to find the best fridge magnets.That being said, magnets make a fantastic item to sell in your gift shop or store.  Fridge magnets are a great ROI due to just their popularity and ease of use.  Look in your house.  Do you have fridge magnets?  I bet you do.  Fairway can help you develop your own line of magnets.  Custom Imprinted with your company name, an image your your attraction or historical location, a calendar magnet with a beautiful scenic view of your local area or state and many other ideas.  The magnets can be displayed in a large area or on one of our stand-up racks or placed by your register for that impulse buy.  Either way, you are going to sell magnets.
Collectors have a wide variety of subjects and materials to choose from when it comes to fridge magnets.  when designing your own custom magnet, make sure it's something unique and special that no one else in the world has but your location.  They can be made from plastic, wood cutouts, ceramics, metal, molded magnet material, to laminated or printed flexible magnetic surfaces.  Custom made or hand painted fridge magnets are a great way to create party favors that commemorate special occasions like weddings- and what better wedding favors for a destination wedding than a magnet of its exotic location.  Save the Date magnets are extremely popular.  If you're looking for save the date magnets, we can create them for you.
Magnets are super popular with everyone.  You really can't go wrong with magnets in your souvenir shop.  Give us a call today at 1-800-325-0889 and order your magnets today.  We sell to wholesale customers, but can make an exception to people looking for magnets with schedules on them for your kids sporting events or even wedding save the date and car magnets.